First time post like this... uh here goes!
This show below Was a Pleasant surprise!

That's Alice she's adorable and is a NEET Detective
This show was something I had not heard of before My sister handed me her copy and said Watch it when you have the time. That was maybe 4+ Months ago though. So during my time of illness having been exiled to my bedroom. I had a stack of anime i have yet to watch I popped it in on a whim and then it all began the tales of the Boy who got involved in the NEET Detective Agency
This guy and the girl who get's him involved in it all.


Now from the first episode he witnesses some stuff go down in a area known for it's Love hotels or Prostitution. I was thinking oh no brown haired male character I hope he isn't USELESS! I had no idea this was a mystery anime mind you.
But from there Gardening club as he is dubbed in the show. He grows up fast and takes action when he must with the help of these guys and Alice Solve the cases or requests that are made.
Who would have thunk a Gigolo (Left), a Military Nerd (Middle), and a Highschool Dropout (Right) would for a formidable well rounded team for helping crack cases!?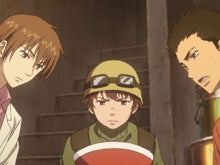 Well overall I was pleasantly surprised with how the stories went and the cases rolled on and unraveled. I was not expecting what happened in the past few episodes. What happened in this show seem like it was very well possible to occur for real. In fact I am sure similar cases have. (sorry if this seems poorly done I am Embearassed to write for others...)
Oh and no this show did not have a Beach or hot springs episode there was baseball though. Look at the coach (Alice) in action!

Oh yeah Wrap up. I loved the show! If you like mystery anime or are interested in them check it out. I have to figure out what to tag this as...
Bye!